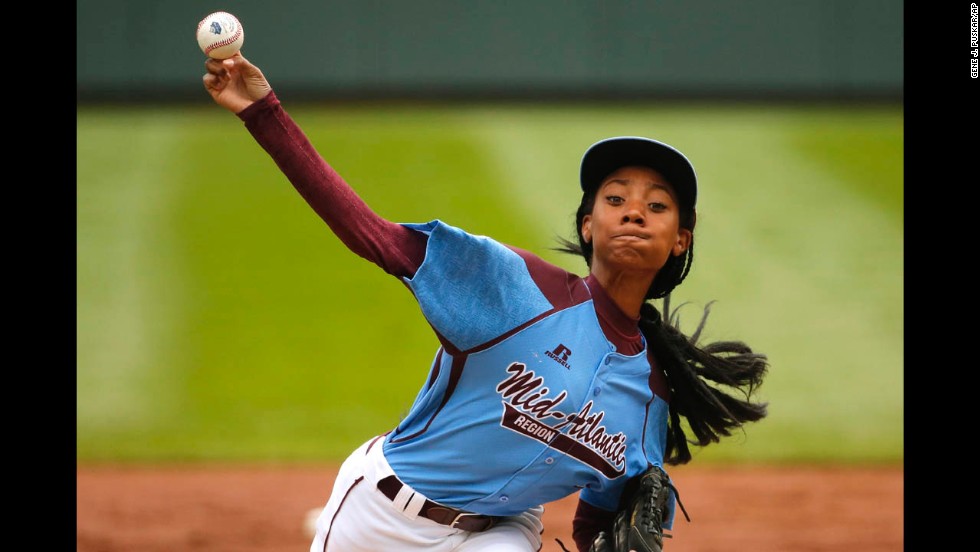 Mo'ne Davis
Recently young Mo'ne Davis made the news for something someone else tweeted about her.
Joey Casselberry, a junior first baseman for Bloomsburg University(in PA), in response to Disney working on a movie titled "Throw Like Mo," tweeted, "Disney is making a movie about Mo'ne Davis? What a joke that Sl*t got rocked by Nevada."
WHY?! Why belittle a kid...a girl who actually went where NO girl has ever gone before? She s the first girl to earn a win and to pitch a shutout in Little League World Series history!
That tweet just doesn't make any sense. The operative, or offending word, of course, is the "S" word...especially when hurled at a 14 y/o girl, who's been nothing but exemplary in her character and play!
The rest of his tweet was mean-spirited, but accurate. Mo'ne Davis DID lose a game to the eventual Little League National Champs (after Chicago got tossed for having a slew of ineligible players on the team), but (1) she's the first and ONLY girl to compete as effectively as that, at that level against boys and (2) her team didn't lose solely on her pitching....her teammates didn't hit very well that game.
If Casselberry had written, "Disney is making a movie about Mo'ne Davis? What a joke. She got rocked by Nevada," it would've been just as boorish and mean-spirited, but somewhat less sexist...AND it wouldn't have given the highly INTOLERANT politically correct crew the opportunity to APPEAR all "tolerant and inclusive," while continuing to show their classless intolerance to religious folks (OK, mainly Christians), Wall Streeters and virtually anyone else they perceive they disagree with.
Bloomsburg University rightly and predictably responded by immediately putting Casselberry off its team and that's where Mo'ne Davis showed incredible class, by emailing that school in favor of giving that goofball a 2nd chance. She told one outlet, "... I know right now he's really hurt and I know how hard he worked to get where he is. I mean, I was pretty hurt on my part but I know he's hurting even more,"
It's highly unlikely that Casselberry will be reinstated, as calling a 14 y/o girl a "sl*t" is definitely beyond the pale, BUT had Casselberry been black and Mo'ne white, I'm sure we can ALL be pretty much certain that many of the SAME media hawks vulturing Casselberry would be explaining away his faux pas based on his immersion in the "rap culture."
THAT'S how deep our cultural and socio-economic segregated standards go now-a-days, and that's NOT about to change any time soon, NOR is any of that Mo'ne Davis' fault.
In fact, her classiness is made all the more apparent BECAUSE of such pernicious double standards. As good an athlete as she is...and she's exceptional, she seems to be an even better person!